XPilot Community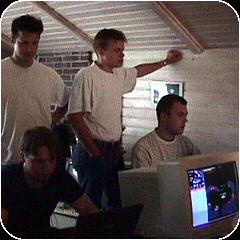 Players at a summercamp in the middle of a game.
Users
The XPilot Facebook page is a great way for users and developers to show their love for the game and share stories.
The IRC channel #xpilot on irc.freenode.net is also another place to hang out.
Developers
Each development line has its own communities that you must engage in if you want to participate to XPilot.
All XPilot developers are also encouraged to join the previously inactive rec.games.computer.xpilot and make it a low-volume cross-development-line development community to foster cooperation.
Developers interested in tracking the XPilot classic line can subscribe to the extremely-low-volume XPilot Classic's Announce list.
Private XPilot Webpages
Mostly for historical interest
Activities
Mostly for historical interest
You can show your playing skills by participating in XPilot Tournaments. These have traditionally been Teamcups running Bloods Music. It needs some level of addiction before you would bring your skills to a level where could lead your team to a victory. Also some advice may be helpful.
On the serious side, the organisation of a Teamcup is not only a lot of work, but also required careful planning.
Date
Contact
Title / Map
Winner
2002
Teamcup
March 2002
Filthcup
Apr 2001
Spring Teamcup
2 Apr. 2000
Death Cup
Bloods Music
Mad Raging Priests of Chaos
25 Sep. 1999
Teamcup
Bloods Music
17-18 Apr. 1999
VAKK Cup
Bloods Music
1998
XPilot Team Cup
Bloods Music
1998
FilthCup
Bloods Music
Oct. 1997
The Wusses in Lagland (Team Cup)
Bloods Music
Local Wusses (Norway)
May 1997
Clash of the Morons (Tournament)
Bloods Music
1994
European XPilot Team Cup
Blood's Music